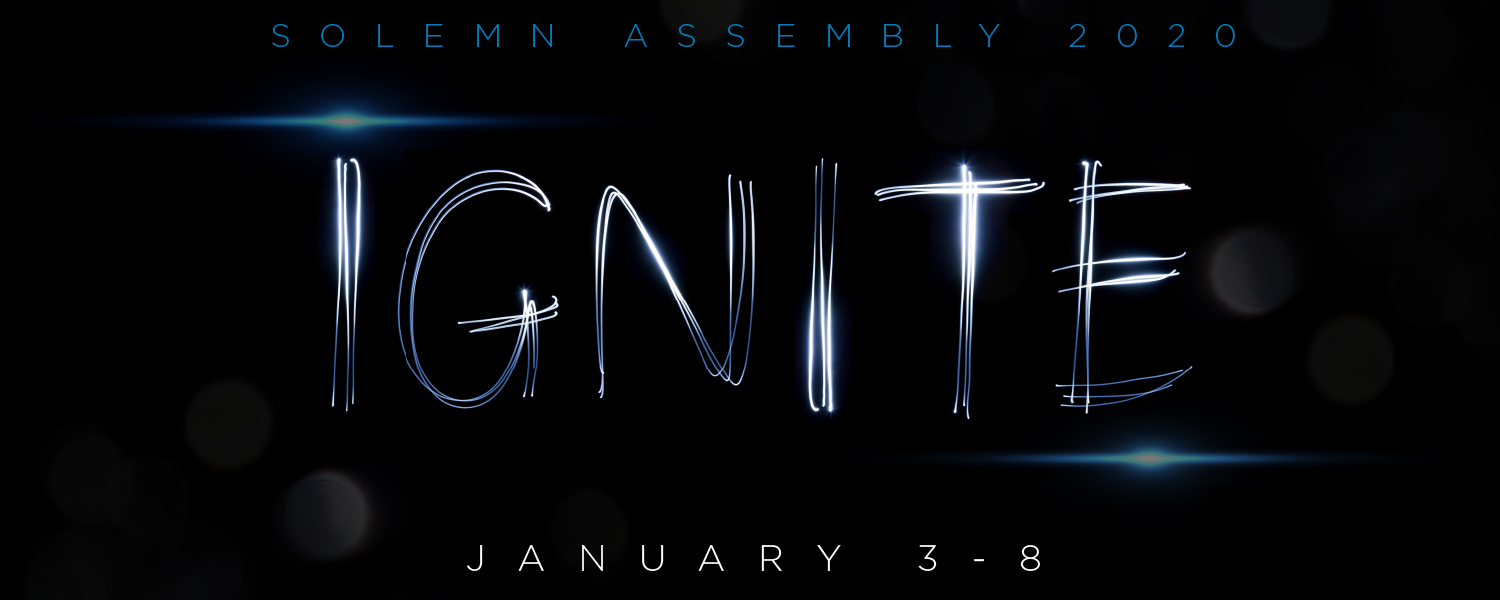 What is a Solemn Assembly?
A solemn assembly is a sacred gathering calling God's people to renew their covenantal relationship with Him and to repent – namely a turning away from sin and a turning back to God. Whenever a solemn assembly or sacred gathering was called in scripture, it was often called by those in leadership – whether that be a priest, prophet or king (Joel 2: Neh. 8-9).  Sometimes these leaders worked alone, but often they worked in conjunction with each other.  In the new testament period, the concept of the solemn assembly – or sacred gathering – is carried over as well.  The church itself was birthed out of multi-day prayer meeting which culminated in what is known as the day of Pentecost, or feast of weeks (Acts 2). Churches are uniquely called and uniquely positioned to impact our society for good (Ephesians 3:10).
Our solemn assembly will consist of six nights of intentional prayer.  Each day we will fast from food between the hours of 3 pm – 6 am.  Each night, a different group will gather to pray.  Our leaders will begin our week of prayer on Sunday afternoon at 2 pm.  Every night following (Monday- Friday) there will be a gathering at 7 pm.
All Prayer Assemblies will take place virtually on YouTube and Facebook.
Sunday @ 2p – Leaders
Monday @ 7p – Men
Tuesday @ 7p – Women
Wednesday @ 7p – Everyone
Thursday @ 7p – Ministries
Friday @ 7p – Break The Fast With Your Lifegroup
If you are not yet a part of a lifegroup, please contact Johnny Moore at 469-854-1280.
There are four primary reasons that we call for a Solemn Assembly at the beginning of each year.
Personal:
Every Christian must decide that he or she can only serve one master.  God makes it clear, we cannot have the world and have Him at the same time (1 John 2:15-17).  Practically this means that God's person, principles, and precepts must be brought to bear on all of our decision, (not just the so-called "religious" ones).  He must be Lord of all of life. Each day must begin with a commitment to Him above all else, and He is to be consulted in pray on all matter of life (Luke 9:23).
Family:
Heads of households must echo Joshua's declaration for their own home, "As for me and my house, we shall serve the Lord" (Joshua 24:15).  The dinner table must again become the central place for reviewing and applying Kingdom principles (Psalm 128:3).  Couples must reconnect themselves to their biblical roles and hate divorce and much as God does (Malachi 2:14).  There must be a regular review of the progress the family is making at adhering to Godly principles and the family altar must become central to home.
Communities:
Local churches must recommit themselves to their primary responsibility of making disciples.  They can no longer be satisfied with simply expanding their membership.  Jesus doesn't need more fans.  He wants more follower.  Programs must be evaluated in terms of Christ and not by how many people are entertained by church events.  This means that there must be loving accountability incorporated into the life of the church.  In addition, there must be a radical return to the authority of scripture and priority of prayer as the foundation of church life (1Timothey 2:8-9) among church leadership.  The church must have regular, unified, sacred gatherings to keep the focus on our absolute dependency on God.
Nation:
The church must begin speaking with one voice so that the nation might see a unified church and not one that is fractured and scattered by differences in how we practice our faith.  This MEANS THAT WE CANNOT BE SO ENTRENCHED WITHIN POLITICAL PARTIES THAT WE ARE NOT FREE TO SPEAK TRUTH TO POWER.  In addition, we should prove our worth to society by an overwhelming culture with good works (Matthew 5:16).  Finally, all attempts to remove God from the marketplace ought to be resisted while we simultaneously bring our public officials before the throne of grace in prayer (1 Timothy 2:1-3).
Daniel Fast: January 12 – February 1
The Daniel Fast is based upon the prophet Daniel's experiences as recorded in the Bible. Scripture gives us some insight (such as in Dan. 10:3) into what he ate and didn't eat; however, we don't know his complete menu. What we do know is this: In Daniel 1, Daniel chose not to eat the royal food that he was being served and ate only vegetables and drank water. Another time (in Daniel 10:2-3) he deprived himself of choice food, meat, and wine as he sought the Lord in prayer. Most commentaries believe "choice food" would have been bread and sweets.
This is why, I believe, you will find some variation in the specific guidelines for the modern-day Daniel Fast, as far as what foods are included and which ones are restricted. The food guidelines on this page are the ones most commonly observed in a Daniel Fast. The intention of today's Daniel Fast is not to duplicate exactly what Daniel did but the spirit in which he did it. Daniel's passion for the Lord caused him to hunger and thirst more for spiritual food than for physical food, which should be the desire of anyone choosing to participate in this type of fast.
Try not to get too hung up on what you should and shouldn't eat. The most important part of the Daniel Fast is that you deny yourself physically so that you may seek the Lord in prayer and grow closer to Him. Your fast may look a little different than someone else's, and that's fine. Some people may need to be stricter than others in their food choices so that their fast is a sacrifice for them. These food guidelines are meant to be just that – a guide. They are given to help you create boundaries for your fast.
The Daniel Fast Food List
All fruit – fresh, frozen, dried, juiced, or canned.
All vegetables – fresh, frozen, dried, juiced, or canned.
All whole grains – amaranth, barley, brown rice, oats, quinoa, millet, and whole wheat.
All nuts & seeds – almonds, cashews, macadamia nuts, peanuts, pecans, pine nuts, walnuts, pumpkin seeds, sesame seeds, and sunflower seeds; unsweetened almond milk. Nut butters are also included.
All legumes – canned or dried; black beans, black eyed peas, cannellini beans, garbanzo beans (chickpeas), great northern beans, kidney beans, lentils, pinto beans, and split peas.
All quality oils – avocado, coconut, grapeseed, olive, peanut, sesame, and walnut.
Beverages – distilled water, filtered water, and spring water.
Other – unsweetened almond milk, coconut milk, rice milk, or soy milk; herbs, spices, salt, pepper, unsweetened coconut flakes, seasonings, Bragg's Liquid Aminos, soy products, and tofu.
Foods to Avoid on the Daniel Fast
All meat & animal products – bacon, beef, buffalo, eggs, fish, lamb, poultry, and pork.
All dairy products – butter, cheese, cream, milk, and yogurt.
All sweeteners – agave nectar, artificial sweeteners, brown rice syrup, cane juice, honey, molasses, raw sugar, syrups, stevia, and sugar.
All leavened bread & yeast – baked goods and Ezekiel bread (if it contains yeast and honey).
All refined & processed food products – artificial flavorings, chemicals, food additives, preservatives, white flour, and white rice.
All deep-fried foods – corn chips, French fries, and potato chips.
All solid fats – lard, margarine, and shortening.
Beverages – alcohol, carbonated drinks, coffee, energy drinks, herbal tea, and tea.
Quis autem vel eum iure reprehenderit, qui in ea voluptate velit esse, quam nihil molestiae.