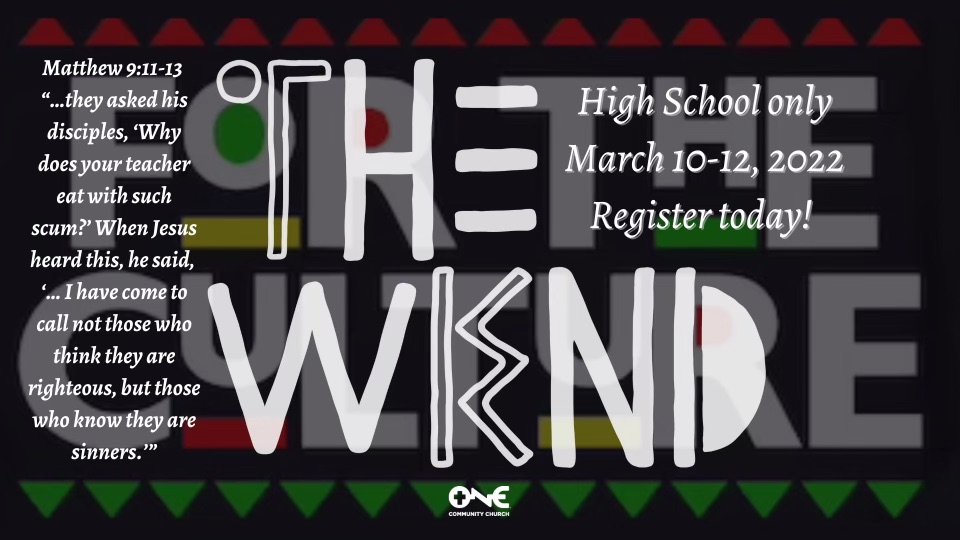 About the WKND
The WKND is an annual high-energy event for middle school and high school students. The retreat takes place starting on Thursday evening and running through Saturday evening. The WKND is focused on helping students go deeper in their faith through relevant teaching, worship, and group discussions.
Students will have fun connecting with friends and taking advantage of the many activities and amenities offered, including: rock climbing, soccer, football, four square, gaga ball, color run, archery, and much more!
Students! Don't miss out, the WKND is one of the most fun events of the year. See you there!
The WKND is a BLAST! You'll have so much fun serving our students. See you there!
FAQ
What is included with the cost of registration? The registration fee covers lodging, campsite activities,
meals, snacks, and a shirt. Extra snacks, replacement water bottles, and event merchandise can be
purchased at an additional cost.
What if my student needs to leave? If your student has to leave at any time during the weekend, a TIME
AWAY CARD must be filled out and signed by a parent. The card must explain why and when he/she will
be leaving and returning. NO OTHER STUDENTS WILL BE ALLOWED TO RIDE WITH HIM/HER
DURING THE WEEKEND.
Where and when do I drop my student off? Students should be dropped off at the campsite at 6:00p on Thursday,
March 10th. Parents should pick up students from the campsite on Saturday, March 12th starting at 12p. Campsite
Address:
Lake Lavon Camp & Conference Center
8050 County Road 735
Princeton, TX 75407
Where will my student be staying? Students will stay in cabins during the weekend with students in the
same grade and the same gender. All cabins are heated/air conditioned and are split into pods.
Depending on the size of the cabin, a pod can sleep anywhere from 24-50 people (there will be one
leader assigned to every 12-15 students) each has a bathroom with a minimum of two sinks, two toilets,
and two showers. All small group leaders accompanying students are trained and background checked.
Medical Releases – Does it really matter? Each student will need to bring a signed copy of the medical
release or have a parent sign one during drop off. We want to take the best care of your student. If there
were an emergency, the medical release form would allow us to provide the necessary care for your
student. To best protect your student, a signed medical release form must be completed in order for them
to attend.
What will students eat during the weekend? Students will be provided a hot meal for dinner Thursday,
Breakfast, lunch and dinner Friday, and breakfast and lunch Saturday. Between meals and large group
session, a light snack will be provided for each student. Students will also have the option to purchase
additional snacks should they desire to. The camp can accommodate most dietary needs, but they need
to be notified no later than 2 weeks prior to the camp start date. If the camp cannot accommodate the
specific dietary need/restriction, they will recommend that the student come with individually packed
meals that the camp will store in the kitchen and reheated during their mealtime.
Can my student bring food or snacks? To avoid attracting insects and small animals, we ask that students
do NOT bring any food or drinks besides water into the cabins. Students will be given plenty of time to
eat and snack in designated areas.
Can students request to be switched? We will work very hard to make sure students are in a group with
people they know. Changes to small group assignments are handled on an individual and case by case
basis.