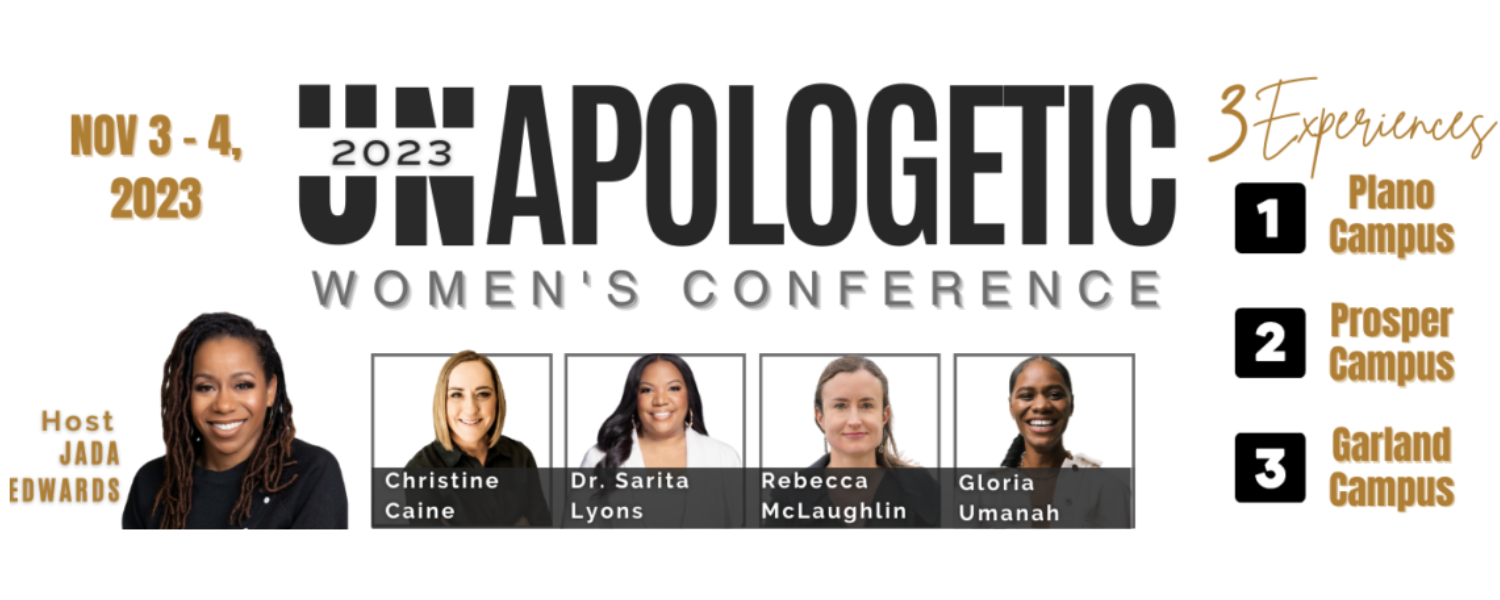 Why Unapologetic?
Welcome Ladies to our 2023 Women's Conference!
I want to remind you that we are called to be UNapologetic. It doesn't mean we are unaware, uninformed, or even uncaring. We glorify God when we live out the gospel and love others with boldness. We do that by being students of the Bible, bearing each others' burdens and being in authentic community. Being unapologetic means being sensitive to what is happening around us and responding accordingly. It means being spiritually strategic— knowing when to do, when to say, and when not to do or say something. Being unapologetic is more than personality and it's not necessarily being fearless. But it does mean we say yes to God before God says yes to us.  Before God gives the details or brings the blessings we may desire, we say yes to his agenda and we give it our full energy.  
It is my prayer and hope that you will open your heart to hear from God during our conference weekend. Whether he's speaking through deep reflection, surrendered worship or shoulder-shaking laughter….LISTEN to Him. 
Jada Edwards is an experienced author, speaker, Bible teacher, and mentor. Studying and teaching the Bible is one of her greatest joys. Jada is a huge advocate of discipleship and living on mission. She is even a little nerdy about personality and motivation assessments. She has committed her life to
equipping women of all ages, regardless of marital status, with practical, biblical truth to help them live more genuine lives.

But despite all of that, the local church is her home. She and her husband, Conway, planted One Community Church in 2008 and

it now

includes six campuses across the Dallas-Fort Worth Metroplex and Boca Raton, Florida, as well as a global campus.  With God's grace, One Community Church has grown from a body of 10 to 10,000 attending weekend services in fifteen years. She loves the local church and the mission Christ has given it. She has the honor of being the Creative Services Director which has global oversight for all of their worship and performance arts ministries, and she also serves on the teaching team leading their Women's Bible study.
Jada enjoys spending time with her husband Conway and their two children, Joah and Chloe, particularly around the dinner table.
Christine Caine is a speaker, author, and activist who has been serving the local church globally for over 30 years. She and her husband, Nick, founded the anti-human trafficking organization, The A21 Campaign, which works at the local, domestic, and international level to end modern-day slavery. They also founded Equip & Empower, a ministry that is mobilizing people everywhere to live on mission for Jesus. Propel Women is an initiative of the ministry dedicated to coming alongside women all over the globe to activate their God-given purpose. The ministry has also planted three life-giving Zoe Churches in Europe that are not only bringing the Gospel to the region, but also serve the most vulnerable through humanitarian outreach during times of crisis.
Christine is the best-selling author of more than a dozen books and studies and you can tune into her weekly podcast or television program to be encouraged with the hope of Jesus wherever you are. Christine holds a Master's Degree in Evangelism and Leadership from Wheaton College.
Dr. Sarita Lyons, affectionately called "Dr. Sarita," is a wife, mother, speaker, women's bible teacher, and psychotherapist. She is on staff at Epiphany Fellowship Church in Philadelphia as the Director of Discipleship and Women's Ministry. Dr. Lyons speaks, writes, and advocates about the intersections of faith, mental health, and justice; as well as women's issues in and outside of the church. Dr. Lyons is a contributing writer for the multi-award winning book, Urban Apologetics: How the Gospel Restores Black Dignity, General Editor, Dr. Eric Mason. 
Dr. Lyons is a graduate of Florida A&M University, with a Bachelor's of Science in Broadcast Journalism and a minor in Psychology. She is also a graduate of Villanova University School of Law, and earned a Master's Degree in Clinical Psychology and a Ph.D. in Clinical and Forensic Psychology from Drexel University. 
Dr. Lyons is married to Pastor Mark Lyons. They reside in the Philadelphia area and are the parents of four children, Malachi, Sophia, Olivia, and Gabriella.
Gloria Umanah is the founder and executive director of The Ex-Nihilo Collective and an internationally known and sought after communicator and spoken word artist based out of Atlanta, Georgia! In 2016 Gloria turned down a dream opportunity of working with the Federal Bureau of Investigations and instead surrendered to the calling of God upon her life, which led to a life of purpose. Gloria now uses her creativity and unique voice to bring to light the power of the Gospel of Jesus Christ to students, young adults, men, and women across the world.
Through sharing her powerful story of overcoming suicide, anxiety, and a life of fatherlessness. Gloria's impactful messages and Spirit filled spoken word poems of hope have reached over 2 million people across the globe. Gloria is a powerful voice rising up in her generation. She is bold. She is Spirit-filled. And she is willing to be the one who stands in the gap for those searching for true freedom. She carries the flame of revival wherever her feet travel as she seeks to see a generation liberated and propelled in the freedom found in Christ, and in Christ alone.
Rebecca McLaughlin holds a Ph.D. in Renaissance Literature from Cambridge University and a theology degree from Oak Hill College in London. She is the author of Confronting Christianity: 12 Hard Questions for the World's Largest Religion (2019), which was named book of the year by Christianity Today, and of 10 Questions Every Teen Should Ask (and Answer) about Christianity (2021), The Secular Creed: Engaging 5 Contemporary Claims (2021), and Is Christmas Unbelievable? Four Questions Everyone Should Ask About the World's Most Famous Story (2021). She lives in Cambridge Massachusetts with her husband Bryan, and their three children.