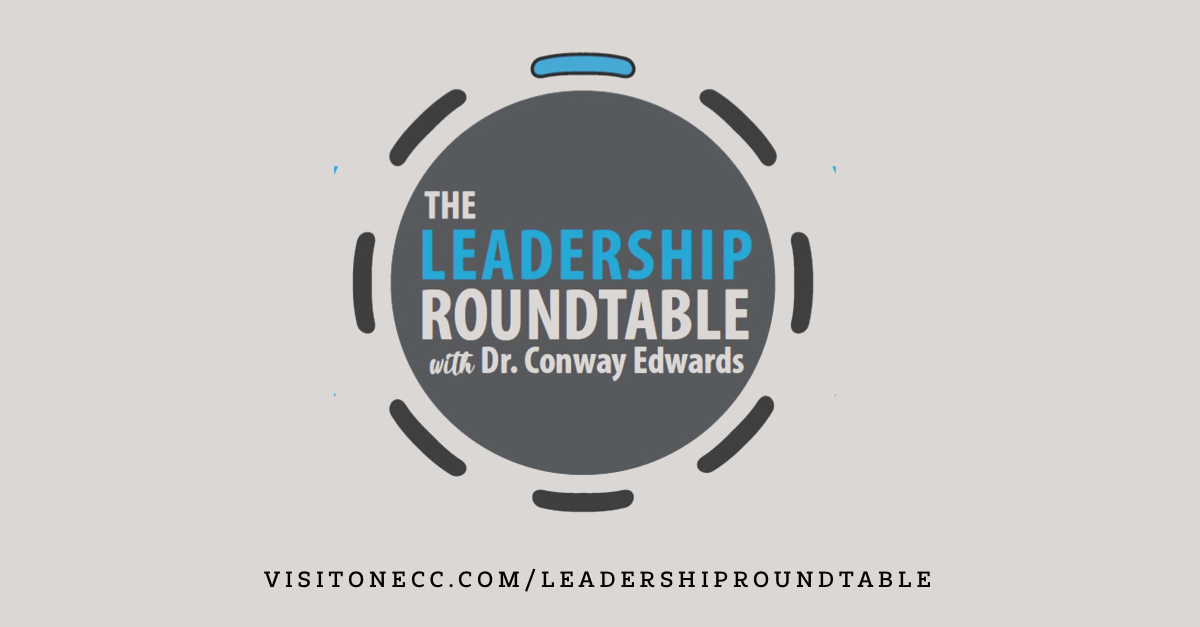 Episode 38 | 10 Unique Strategies for Church Growth
Special Guest: Pastor Kurtran Wright, Missional Pastor One Community Church. What factors can determine church growth? The reality is that every church is different, and therefore leaders must be in tune with the unique culture of the congregation and the specific needs of the community they desire to serve. As One Community Church gets ready to celebrate 14 years, Special Guest Pastor Kurtran Wright, one of our original members, joins us to talk about humble beginnings and the unique strategies that churches can adopt as they start growing!
The Leadership Roundtable.
Have you ever wondered what it would be like to sit at the table with today's top leadership experts?  The Leadership Roundtable takes you on a journey with today's top leaders to explore challenges that are relevant to you.  Subscribe or Listen in below and join our conversation.
Episode 37 | A Conversation with NFL Hall of Famer Pastor Aeneas Williams
Special Guest: NFL Hall of Famer Aeneas Williams joins us to talk leadership lessons and the importance of leading with the team in mind!
Episode 36 | 4 Hindrances to Growth 
Special Guest: Pastor Luke Brownell. Healthy leaders understand that you can either have control or you can have growth… but you can't have both! If everything is under control, it is likely a sign that your organization is NOT growing, or at least not growing as fast as it could be. An organization that is growing will never have enough leaders. Pastor Luke Brownell joins us to discuss how to identify (and overcome) the specific challenges that are holding back opportunities for growth in your organization!
Episode 35 | How to Create Sticky Environments
Special Guest: Pastor Luke Brownell. When something is "sticky" it doesn't move easily, and it usually clings to whatever it touches. Creating a sticky environment in your organization means designing a rhythm to get new people attached to the vision and move them from guests to spectators to contributors as quickly as possible!
Too often we are focused on the numbers and miss the opportunity to connect people what God has called them to do. Pastor Luke Brownell, One Community Church Prosper Campus Pastor, joins us to discuss the key next steps your organization can take to get your people to stick!
Episode 34 | Leadership is an Inside Job
Special Guest: Bishop Van Moody. The true mark of a healthy leader is summed up in the answer to one question: Can you lead your own life well? Great leaders understand the importance of self-reflection and accountability. If you are not where you need to be, or WHO you need to be for your teams, it is easy to become a stumbling block to the work that God is trying to do. Bishop Van Moody joins us to discuss some key strategies for leaders to use when taking inventory of their own lives. It all starts on the inside!
Episode 33 | What Innovation Looks Like
Special Guest: Bishop Dale Bronner. Innovation is NOT an option; it is essential for growth. We must be able to look far enough into the future to anticipate what the needs will be before they come, reflect on where we've been and determine where we want to go. Bishop Dale Bronner joins us to discuss what innovation looks like in the church and how great leaders use innovation to inspire and empower their teams.
Episode 32 | 10 Keys to a Successful Relaunch, Pt. 2
Special Guest: Pastor Luke Brownell. Part 2 of Dr. Conway Edward's conversation with Pastor Luke Brownell of One Community Church Prosper Campus discussing the key strategies to successfully relaunch your church, re-engage volunteers and get your community on board!
Episode 31 | 10 Keys to a Successful Relaunch, Pt. 1
Are you ready to relaunch your church? Things have changed and may look different. In times of uncertainty, it is not uncommon for church leaders to proceed with caution when reopening their doors. Pastor Luke Brownell from One Community Church – Prosper Campus joins Dr. Conway Edwards to talk about ten key strategies that church leaders can implement to re-engage volunteers and their community. Stay tuned for Part 2, coming soon!  
Episode 30 | The Future of Volunteerism
When it comes to recruting volunteers, church leaders face a unique challenge to grow their teams while keeping current volunteers engaged. Dr. Conway Edwards shares some key strategies to best identify where people best fit so they can thrive in and within churches in the future!
Episode 29 | How Great Leaders Connect with People
Special Guest: Pastor Mike, Jr. – How do you influence the people you cannot reach? Great leaders must learn to humble themselves and to speak the language of the culture in which they desire to have an impact. Pastor Mike Jr. joins us to discuss how leaders are using new evangelistic tools to connect with people and tell them about Jesus!
Episode 28 | How Great Leaders Prepare for the Tough Questions
Special Guest: Pastor Dr. Eric Mason – Are you prepared to answer the tough questions? What happens when church leaders invite doubt into the conversation? It is important to understand what creates influence and how to answer those uncomfortable questions that the next generation of leaders may be asking. Pastor Dr. Eric Mason joins us to discuss how to identify the greatest needs in the community and what great leaders can do to keep people engaged!
Episode 27 | How Great Leaders Build Relationships
Special Guest: Bishop Van Moody – People don't care how much you know until they know how much you care. A greater leader understands that building quality relationships with people is the key to success. Bishop Van Moody joins us to discuss   some fundamental elements that leaders can apply to developing great relationships with others as well as themselves!
Episode 26 | How to Develop a New Generation of Leaders
Special Guest: Christine Caine – A new generation of leaders is emerging. Organizations must learn to adapt and utilize tools that speak to the next generation. Non-profit founder Christine Caine joins us to discuss leadership development strategies for the next generation and what we can all learn from each other by working together! 
Episode 25 | How to Be a Great Communicator
Communication is key! But what makes someone a great communicator? Pastor Bryan Loritts joins us to discuss a few things that leaders and pastors can do to become more effective communicators.
Episode 24 | Leading Up: Part 2
Leaders love leaders. When the next great opportunity shows up, will your leader be able to call on you first? Join Dr. Conway Edwards and Pastor Matt Anderson as they discuss 9 ways to effectively lead your leader by learning how to "Honor Up," providing support, and adding value to your leader and the organization!
Episode 23 | Leading Up: Part 1
Everyone has influence. No matter who you are. No matter where you serve. No matter what you do. Join Dr. Conway Edwards and Pastor Matt Anderson as they discuss the keys to "Leading Up" in your organization!
Episode 22 | 5 Questions to Discern Leadership Motive
Join the conversation as we discuss 5 Questions that will help every leader discern their motives in leadership.
Episode 21 | 4 Stages of Leadership
Are you ready to take your leadership to the next level? Join us as we break down the four unique stages of leadership and give you some tools on how to evaluate yourself as a leader, identify the current stage you are in, and what you can do to LEVEL UP!
Episode 20 | 10 Steps to a Successful Easter Experience
These are the moments great leaders thrive in. Are you spiritually, mentally, and physically prepared to take on the challenges of mobilizing the people and getting them fired up for an Easter experience like none other?!? Your job as the leader is to define the WIN – and this year, that comes in the form of engagement and connection for both physical and digital services. Join in the conversation as we discuss 10 steps that leaders need to take leading up to Easter 2021!
Episode 19 | We're All Church Planters Now
Join us as we discuss what it takes to be a church planter and how we can all play a role in the process!
Episode 18 | Your Post-COVID Digital Strategy
Episode 17 | 10 Ideas That Have Worked During COVID-19
Join the conversation as we discuss 10 ideas that have been a success in our church during COVID-19.
Episode 16 | The Art of Continuous Improvement
What happens when we stop making intentional improvements every week? Join this conversation as we discuss 10 questions you should ask every week if you want to continually make improvements in every area of life.
Episode 15 | Reaching the Next Generation
Special Guest: Dr. Eric Mason.  Join us we discuss reaching our communities and reaching the next generation.  We'll explore the challenges faced with reaching Millennials and Gen Z. 
Episode 14 | Managing the Future
Join in as we discuss the importance of leaders forecasting the future.  We'll talk about evaluating culture, the importance of engagement, and a strategy for future focused initiatives.
Episode 13 | Evaluating the Past & Planning for the Future
The lessons from the past can help us evaluate where we're going in the future! Join in as we discuss our Quarterly Evaluation System, the 7 Cycles of a Church, our Strategic Evaluation Tool, and the 10 Metrics to Measure Church Health.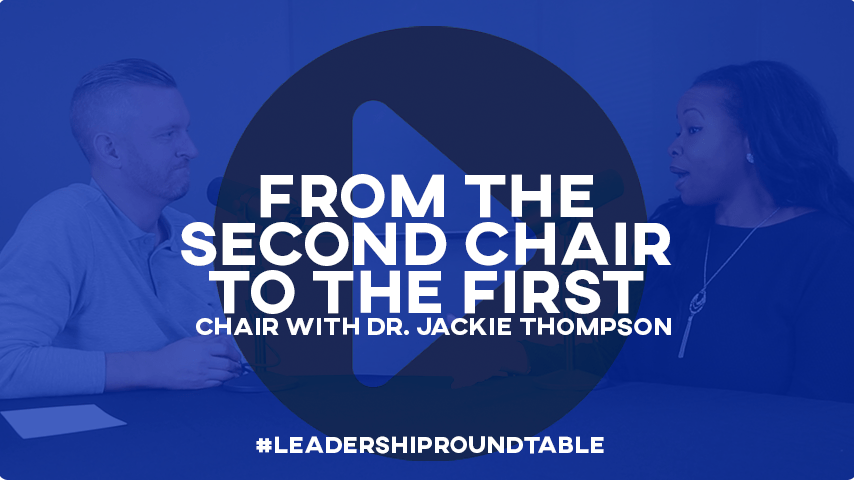 Episode 012:
From the Second Chair to the First Chair with Dr. Jackie Thompson
Episode 010: Leadership & Forgiveness
Special Guest: Bruce & Toni Hebel.  Join in as we discuss the power of forgiveness… how unforgiveness can torment us and how forgiveness can set us free.  We will discuss biblical protocols for forgiveness and how to apply them.
Episode 009: Leadership Transitions After a Moral Failure
Special Guest: Pastor Bryan Loritts.  Join in as we discuss Leadership Transitions and rebuilding a church after a moral failure.  We'll discuss principles that can apply to any major leadership transition.
Episode 008: Defending Your Marriage
Special Guest: Dr. Tim Muehlhoff.  Join in as we discuss the reality of spiritual battle in our marriages.  We'll discuss 5 ways to know you might be in the midst of a spiritual battle, and how to best defend your marriage during battle.
Episode 007: Reasons Why People Quit Church
Special Guest: Dr. Dharius Daniels, Pastor of Change Church.  Join in as we discuss why so many people are quitting church, and how we can identify and respond to those who are leaving the church.
Episode 006: Are You Ready for a Diverse Church?
Special Guest: Bryan Loritts, Lead Pastor of Abundant Life Christian Fellowship.  Join in as we discuss diversity in the future church.  We'll discuss the theological & sociological foundations for a diverse church, the different between culture & ethnicity, and the obstacles that lie ahead.
Episode 005: Six Questions Every Leader Must Ask
Join with Pastor Conway as we discuss six questions every leader must ask himself or herself if they want to strengthen their leadership.
Episode 004: Self Leadership
Special Guest: Steve Stroope, Lead Pastor of Lake Pointe Church.  Join in as we discuss how self leadership can have a greater impact than any other form of leadership.
Episode 003: Recruiting and Maintaining Great Volunteers
 Join Pastor Conway as we discuss principles for recruiting and maintaining great volunteers.
Episode 002: Leadership in the Future Church
Special Guest: Keith Battle, Lead Pastor of Zion Church. Join in as we discuss the challenges and opportunities related to leading in the church of the future.
Episode 001: Building a Diverse Church
Special Guest: Albert Tate, Lead Pastor of Fellowship Monrovia. Join in as we discuss practical ways to build a diverse church.