June 14-15, 2019
One Community Church – Plano Campus
PRE-CONFERENCE SESSIONS
SESSION 1: How to Disciple Men
SESSION 2: Setting an Example as a Mentor and Father
SESSION 3: Misplaced Men: Greatness Found in Quiet Gratefulness
SESSION 4: Why is Friendship Hard for Men?
BREAKOUT SESSION 1
SESSION 1: A Happy and Prosperous Marriage
SESSION 2: Nine Attributes of Real Men
SESSION 3: Managing Stress, Anxiety, and Depression
SESSION 4: Digital Defense: A Battle Strategy for Purity
BREAKOUT SESSION 2
SESSION 1: Future Family: 7 Key Decisions That All Parents Should Make
SESSION 2: What the Health? Winning the Battle Over Your Health Mentally & Physically
SESSION 3: Why Pornography Robs A Man of His Humanness
SESSION 4: Discovering God's Purpose for You
BREAKOUT SESSION 3
SESSION 1: 5 Moral Guardrails: Protecting You and Your Family
SESSION 2: Pursuing an Undistracted Passion for God
SESSION 3: The Moves of Manhood: Resisting Lust, Serving a Leader, and Sharing Love
SESSION 4: The Art of Waiting
Dharius Daniels
Lead Pastor of Change Church
Dharius Daniels is a cultural architect and trendsetter for his generation. He is the founder and Lead Pastor of Change Church. Change Church is a vibrant ministry that impacts people of all ages, socioeconomic classes, and ethnic backgrounds.
Pastor Dharius has developed a Breathtaking Ministry concept that describes the standard of excellence: a standard that is apparent in his commitment not only to ministry but also to education. He holds a Bachelor of Arts degree in Political Science from Millsaps College in Jackson, Mississippi, a Master of Divinity degree from Princeton Theological Seminary in Princeton, New Jersey, and a Doctorate of Ministry degree from Fuller Theological Seminary in Pasadena, California. He has a versatile gift and speaks frequently in seminaries and churches across the country.
He is married to Shameka Daniels and they are the proud parents of two sons Dharius Seth and Gabriel Micah Daniels. Visit Pastor Dharius on the web at www.dhariusdaniels.com
Matt Forte
Retired NFL Running Back (Chicago Bears)
Matt Forte was drafted by the Chicago Bears in the second round of the 2008 NFL Draft (44th overall) and donned the Navy and Orange through the 2015 season. His rookie season ranks among the most prolific in franchise history. In 2014, Forte set a single-season NFL running back record after hauling in 102 receptions. He remains one of three running backs in the history of the NFL to record 100+ receptions in a single season.
Collectively as a Bear, Forte was one of the league's best dual-threat backs in his eight seasons. The two-time Pro Bowler ranks second of all-time by a Bears running back and 11th overall in the NFL with his 2,035 rushing attempts and 8,602 rushing yards. His five 1,000-yard rushing seasons, 24 100-yard games and 12,718 total yards also rank second of all-time by a Bears running back, trailing only Hall of Famer Walter Payton in each category.
Following two seasons with the New York Jets (2016-17), Forte finalized his illustrious 10-year career with 9,796 rushing yards and 54 touchdowns on 2,356 attempts. The 554 grabs rank ninth of all-time by an NFL running back and his 14,468 scrimmage yards are the most by any player during his 10 years in the league. On April 23, 2018, Forte signed a one-day contract officially retiring a Bear.
In his retirement, Forte has taken on several philanthropic causes. He continues to develop his What's Your Forte Foundation (founded in 2014), which assists and mentors' children in underserved communities by creating programs that help develop their passions. Additionally, the organization seeks to foster healthy relationships between Chicago communities and the Chicago Police Department, among other socially relevant issues.
Forte champions complementing organizations that promote health, wellness and education as well as guidance opportunities to at-risk youth populations. He has recently announced his partnership with United Way of Chicago, to be one of the faces of the organization and also sits on the board of The Google Org Impact Challenge that rallies non-profit organizations to create innovative economic opportunities within their community through grants.
Forte has also expanded his public voice, and in May 2018 joined NBC Sports Chicago as a featured analyst on the "Football Aftershow," as part of the network's game-day coverage. He is currently pursuing acting.
Anthony Tolliver
NBA Basketball Player
Anthony Tolliver has been playing professional basketball since 2007 and in his eleven seasons in the NBA and still counting, he has played for over a dozen teams which include the Minnesota Timberwolves, Atlanta Hawks, Charlotte Bobcats, the Phoenix Suns, the Detroit Pistons, among others. Before his NBA career, Tolliver played college basketball at Creighton.
Tolliver is the son of Donna Lewis and Johnny Tolliver and was born in Springfield, Missouri on the first day (1st) of June 1985. He has six siblings (all sisters).
Anthony attended Kickapoo High School in Springfield, Missouri, where he was one of the 4 players from his high school team to play Division 1 basketball. During the senior season that ended in 2002, his high school team was named the Missouri Class 5A State Champions and got ranked 12th best in the country by USA Today. In the fall of 2002, he committed himself to play for Creighton.
Tolliver spent the 2007 preseason with Cleveland Cavaliers after going undrafted and much of the regular season with NBA Development League team, Iowa Energy, recording 6.4 rebounds and 11.5 points average per game. He would later play briefly with German basketball club Eisbären Bremerhaven before San Antonio Spurs signed him in July 2008.
Anthony would spend the early part of the season sharing his play time between San Antonio and the D-League team, Austin. He played eleven games with San Antonio before being sent off to Austin Toros where he appeared in 6 games and recorded an average of 7.8 rebounds and 17.8 points. He would play 8 more games with San Antonio before he was waived in January 2009 and was again signed with Iowa, before he left for New Orleans on a ten-day contract after playing 3 games with the former.
At the expiration of the 10-day contract which was not renewed, he went back to Iowa. Not quite long, he signed with Galatasaray Café Crown of the TBL. By December of 2009, he was playing for Idaho Stampede of the NBA Development League, he would later be signed by Portland Trail Blazers, but he only played four games for the Blazers before being released to return to Idaho.
In January 2010, he signed a 10 day deal with the Golden State Warriors, at the expiration of the initial ten-day deal, the contract was renewed and Tolliver remained with the team till the end of the 2009/10 season. At the end of the season, he made an average of 7.3 rebounds and 12.3 points per game. During the 2010 off-season, he signed a 2-year deal with the Minnesota Timberwolves worth $4.5 million.
He was with Atlanta Hawks for the 2012/2013 season, with the Charlotte Bobcats the next season (2013/2014) and in July 2014, he signed with the Phoenix Suns, with whom he remained with for the rest of the 2014/2015 season, recording an average of .8 rebounds and 3.3 points per game.
Anthony Tolliver was traded to the Detroit Pistons in exchange for Tony Mitchell and would later play for Sacramento Kings after the Kings waived him in January 2017, he went back to the Pistons until July 2018, when the Minnesota Timberwolves signed him.
Tolliver has been happily married to his wife, Jessica Svoboda since 2011. The couple met at Creighton University, during their freshman orientation. they became friends and like the saying goes: "the rest is history." The couple has two wonderful kids together.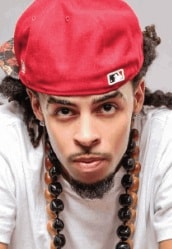 Dee-1
Rap Artist
New Orleans native David Augustine, aka Dee-1, didn't start rapping until he was enrolled at Louisiana State University. If Tupac and Lauryn Hill had a son, it would be Dee-1. He is truly the voice of a generation, and has skyrocketed from doing local talent to rocking worldwide tours. Growing up in New Orleans, the temptation of the streets as very appealing. Bu these same streets broke Dee-s' heart when his best friend got murdered. At that moment, Dee knew that God called him to break the cycle of negativity, so he chose a different route.
He released his first two mixtapes during the mid-2000s. The year he graduated from LSU he took his swagger and charisma to teach mathematics at a middle school, he released his third mixtape. He soon traded his classroom for a microphone and a stage, and the rest is history.
Dee-1 entered the rap game on a mission. To inspire people everywhere to "Be Real, Be Righteous, and Be Relevant." He has since released some of hip=hops most powerful albums and has collaborated with platinum artist such as Lupe Fiasco, Macklemore, Sevyn Streeter. His single "Sallie Mae Back" went explosively viral and became known as the "debt free student loan anthem." His latest album "Slingshot David" is his most exciting project, carrying a theme of finding your Slingshot and using it to defeat your Goliaths- a concept we can all relate to. From his dreads to his out fits, to his tapes. As he continues to rock big stages and make hit record, all he asks of the people is to stay focused and keep their #MissionVision sharp at all time.
FRI, JUNE 14
3:00P Registration Opens
5:15P Food Trucks
6:00P Pre-Conference Breakout Session
7:00P General Session 1
9:15P Breakout Session 1
SAT, JUNE 15
8:00A Registration Opens
9:00A General Session 2
10:15A Breakout Session 2
11:00A Breakout Session 3
12:00P Closing Session 3
Individual
Single Attendee
Individual
Single Attendee